How to Live With Purpose for a Happy Life - Successful Passions
You are likely focused on your goals and maximizing your potential, just like most people. Maybe you've overlooked something that could be crucial to your happiness and success.
It may be more important to live with purpose than you realize. Experts agree that living with purpose, meaning and finding meaning in your life has many benefits. Some of these benefits are a bit surprising.
How to Live With Purpose for a Happy Life
We all want to live a happy life. But what does that mean for each of us? For some, it might mean spending time with family and friends, traveling, or enjoying favorite hobbies. For others, it could mean making a difference in the world by volunteering or working on important causes.
The key is to figure out what matters to you and then find ways to make your life reflect those values. It's not always easy, but with a little effort you can create a life that's truly fulfilling. Here are a few tips on how to live with purpose and happiness.
Focusing on Your Purpose Is Possible
It's much easier to put your efforts and energy into achieving your goals when you have a clear understanding of your life's purpose. It is clear where you are going and how to get there. Your purpose is a guideline and map that will help you reach your goals.
Purpose Makes Gratitude Easy
Living your purpose can make you happier with your life. Because they know what they want, they report greater contentment with their current circumstances.
Purpose Sharpens Your Passions
Understanding your purpose will help you to focus on what ignites you. This helps you find your passions, and pursue them.
Purpose Helps you Live in Alignment with Your Values
It is possible to align your actions with your core beliefs and values by doing the work of your purpose. You can choose to live a fulfilling life and not be tempted by things that may distract you from your path.
Purpose Makes You A Better Leader
Employees and clients both find it inspiring to have a boss with a clear vision about where they want to go. Clarity of purpose is a motivator and inspires trust and respect.
Purpose Helps You Live Longer
The best thing about finding your purpose in life is the fact that you can live longer. Japan's researchers found that those who have a purpose in life live longer than those who don't. Understanding your purpose will help you cope with stress and all the other challenges of life.
People who live a purposeful, fulfilling life that is aligned to their deepest values tend to be less anxious and worry less. They are healthier and have less anxiety, depression, and insomnia.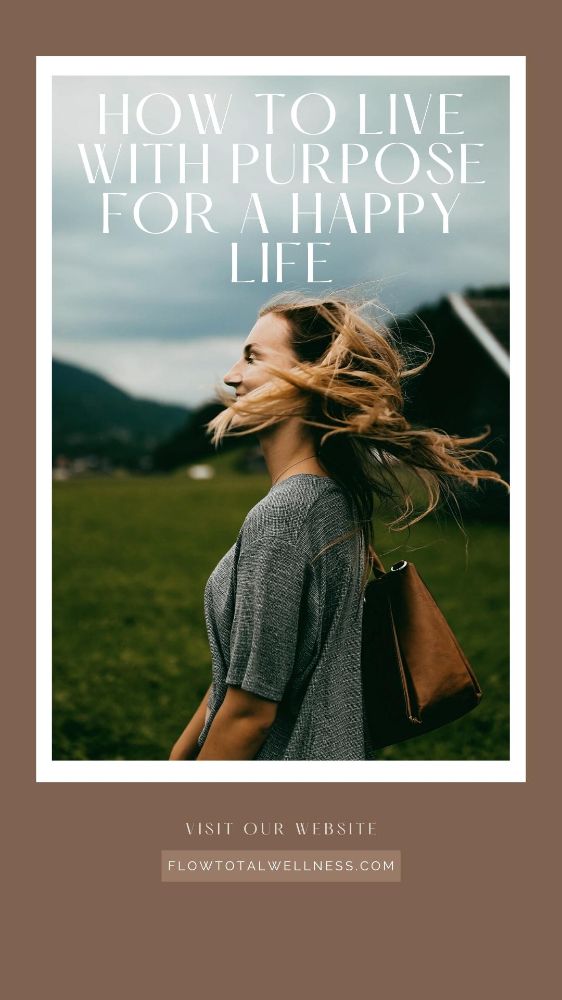 About Flow Total Wellness:
Flow Total Wellness is a blog that focuses on self-improvement and personal growth, as well as mental health and wellness. The goal of the blog is to help people understand themselves better in order to improve their lives. Learn how to be more productive in life and at work. Topics include positive mindset, stress management, and tips for mental well-being.
---
2022 © Flow Total Wellness